Gamer Dating
As founder of Joystick Dating I wanted to contrast the average time passionate gamers have been single compared with regular daters. To throw in some extra complexity these comparison had to take age in to count as 18 year olds will have lower potential averages than 40 year olds. Time for some maths, spreadsheets and graphs. Oh, YES!
The following question was asked on Joystick, the gamer dating site and ooOo, the mainstream dating site.
How long have you been single? (do not include years prior to the age of 16)
The total survey size was 5,643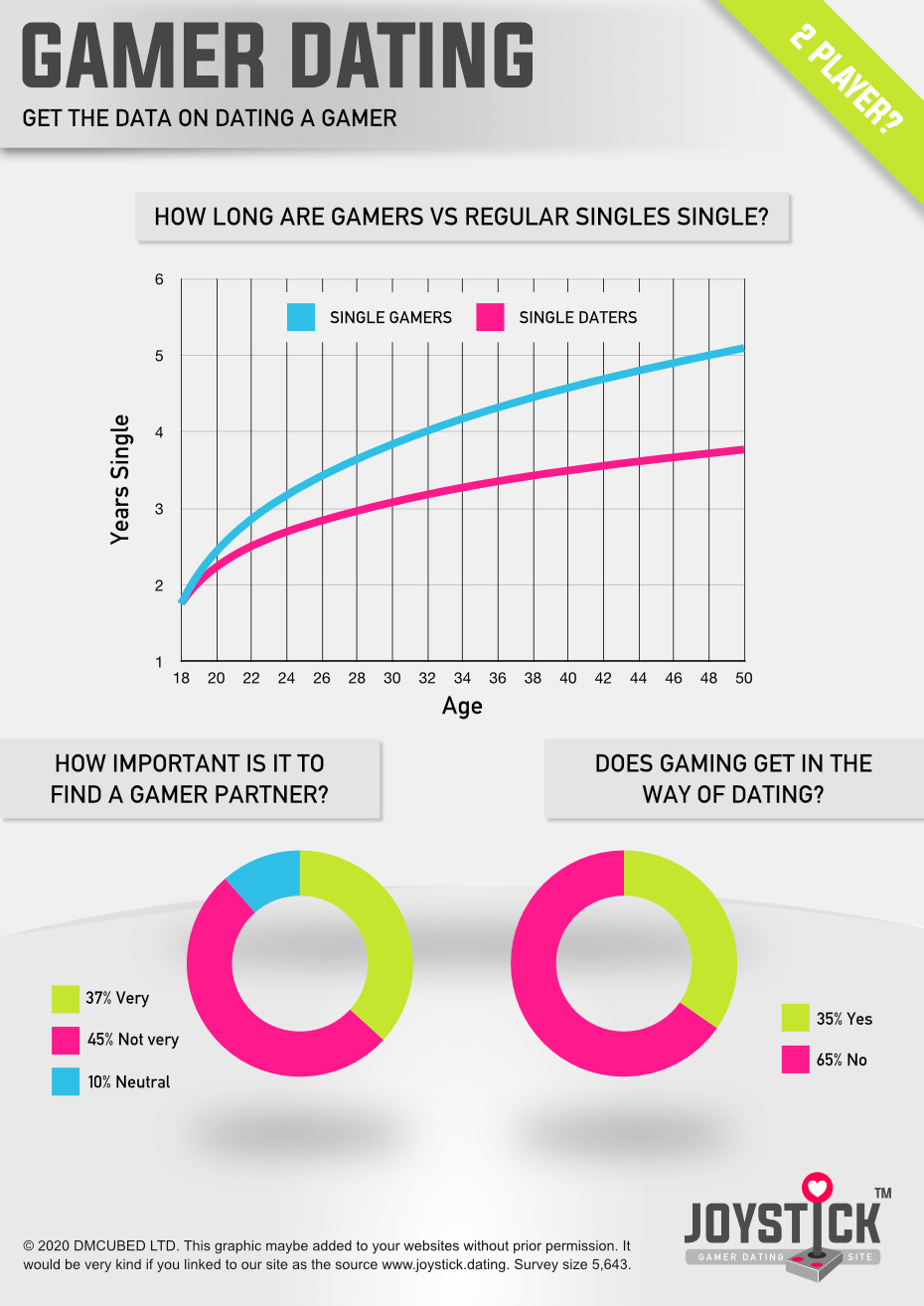 Embed this infographic on your site
Copy and paste the following code to add our gamer dating infographic to your website or blog.
Gamers are single for longer
It's official, gamers don't get the same opportunities to date and find partners. When singles are 18 there is little difference between the time single for a gamer and regular dater. As age increases the disparity also increases. A 28 year old regular online dater has been single for about 3 years vs a gamer who has been single for approximately 3.5 years. By the age of 40, a gamer has been single over a year longer than a regular dater.
To find out why we asked the gamers a couple of follow up questions:
Does your passion for gaming get in the way of dating new people?
How important is it to find a date who shares your love of gaming?
Here are the results:
35% of gamers said gaming gets in the way of dating new people
37% of gamers said it was very important to find a date who loves gaming
More than a third of gamers want to find another gamer or at least someone who's interested in games. A similar number also say their gaming hampers their dating success. It's fair to assume these are boosting the average time spent single for gamers.
Quotes from our gamers
Here are a selection of comments from our gaming members about dating.
I'm just player 1 looking for player 2, D, Male, 29 UK
I see gaming as any other form of entertainment. It's my favourite form and I enjoy sharing it with whomever I am dating. Sharing the experience can be just as enjoyable as watching a Show together, Movie, reading the same book, or any other shared activity. Finding someone who enjoys it as much as I do is my goal. J, Male, 32 USA
The couple that plays together stays together! G, Male, 29 USA
I love gaming, especially role play which spills over to my real-life. Finding someone else who 'gets it' is essential. K, 31, Female, UK.
8 reasons to date a gamer
You know where they are 99% of their free time.
The have dated less people.
You will not find someone with faster fingers.
They can turn something on in under a second.
They like gadgets that vibrate . . . controllers and gamer chairs of course!
Multi-player sessions are more fun than playing on your own.
They know which buttons to press to unlock special moves.
Finally, if you break up you don't need to console them, they already have one.
Summary
What are you waiting for? If you're a gamer or not, it's surely time to date one! If you're stuck for an opening line . . . "Is that a joystick in your pocket or are you just pleased I have a Playstation 5 on order".